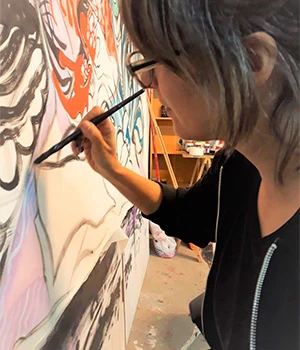 BIO

Marta Beltrán (Granada, 1977) studied a BA in Fine Arts (University of Granada). She studied a full course at the University of Loughborough and completed postgraduate studies in Granada and Madrid.
In 2016, the University of Granada granted her an Arts Production Studentship to developing her exhibition 'La Ceremonia' in the Royal Hospital – currently the University of Granada Vice-chancellor's office – curated by Susana Blas. –
In 2018 and 2019, she exhibited the outcome of several projects developed as a result of prizes awarded in 2017: 'El juego de la libertad' (Daniel Vázquez Díaz Studentship, Huelva), 'Ojos de un extraño' (Gregorio Prieto Drawing Prize, Valdepeñas) and 'La vendedora de fósforos' (DKV-MAKMA, Drawing Prize, Valencia).
In 2019, she joined several collective exhibitions at the Birimbao Gallery (Seville) Puxagallery (Madrid). During 2018 she exhibited in the Marte, Castellón and JustMAD art fairs. In 2019, she was awarded an Honour Mention in the 12th edition of the 'La Rural' Fine Arts and Painting Prize.
---
ARTWORK
Marta Beltrán's work is conceived as an image reconstruction process, primarily by using images borrowed from cinema, found photographs, collages, installations and videos. These are used to elaborate a discourse in which we are compelled to see what is underlying the scene and the stereotype stemming from it, thus combining these through powerful reinterpretations.
Her images subtly reinterpret the original subject by expressing unconscious contents and emotions that become the main subject of the artwork: distancing from a logic-based narrative. Through a unique method of popular imaginaries' filtering Marta Beltrán dislocates the starting images to unveil hidden values in the referents, resorting to deformation and strangeness.
She often focuses on depicting women's day-to-day life, the home realm, rooms and decorative objects. She thus creates a narration that keeps a distance towards the subject and becomes perturbed by an uncontrolled drawing solved through a visual order that comes from the detail to the whole. This offers an apparently distorted vision that finds an ironic, almost black side in what is to be found in a sparkling, innocent or trivial image.
Her work suggests a need to minimise the composition resources and focus the attention in the depiction to establish connections not only limited to the mental or intellectual. It becomes a priority to create images of materials with remarkable physical appearance, elaborated through a traditional painterly approach in which drawing is an essential element.
Within her drawings' severity and simplicity, there underlies an interesting, semiology analysis of the women's depiction – in cinema, mainly – that facilitates unveiling the stereotypes, preconceived ideas and impositions women are put through.